Revija Petnica očigledno još nije uspela da pređe na polugodišnje izlaženje ali smo se zato potrudili da novi godišnjak zadrži visok nivo informativnosti, obuhvatnosti sadržaja i, naravno, visok kvalitet štampe što verujemo da zaslužujemo. Petnica je preživela rat, potpuno pomračenje Sunca, kao i razne bitke pre i nakon toga. Okrugla je godina. Ipak, to je godina mnogih promena koje će, nadamo se, doprineti da ova ustanova zaplovi mirnijim vodama i ostvari veću stabilnost svojih programa. Žao nam je što smo malo kasnili, ali nije lako sakupiti pare i sponzore a i teško predvidljivi događaji su nas nemilosrdno sustizali. U Petnici se mnogo radilo i dosta toga nije moglo da stane u ovaj broj.
U ovom broju revije nastavljamo trend ustupanja sve većeg prostora sadržajima namenjenim školama i nastavnicima - ovoga puta imamo specijalni dodatak "Perspektive obrazovanja" na 48 strana sa dosta vrednih i zanimljivih tekstova, kao i poseban vodič za Internet resurse namenjen nastavnicima na 16 strana.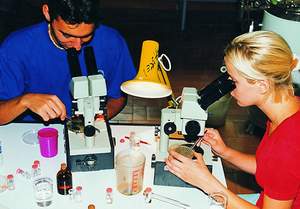 Ukoliko niste dobili štampanu verziju ove publikacije, a to želite ili ste promenili adresu ili želite da Vam Petnica stiže na drugu adresu, molimo vas da nas obavestite: isp@psc.ac.yu

English text on blue columns

Petnica almanac is traditional annual overview of rich and colorful activities of Petnica Science Center - the unique alternative future-oriented school founded by unsatisfied students and located in the heart of boiling Balkan to seek for gifted and talented young people and help them to understand and accept modern science and technology. Petnica Science Center in non-governmental and non-profitable institution and it is active thanks to broad understanding and support of alumni, friends, organizations, and companies from Yugoslavia and abroad.
This page containing special European letters from the Serbian and other Central European languages, supported by ISO-8859-2 (ISO Latin 2) Character Set in Yours WWW browser.